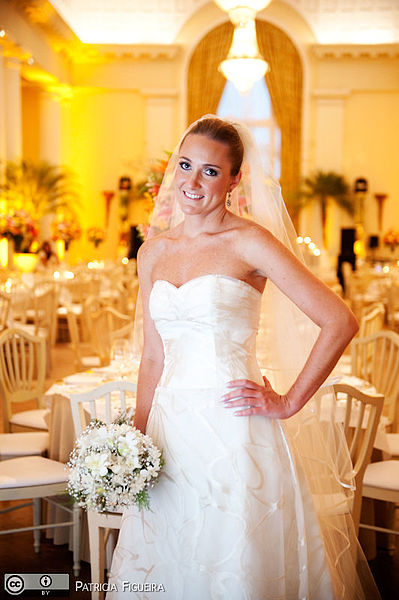 All the signs are that the British wedding industry is currently in decline. Suppliers from bridal gown retailers to menswear hire companies are reporting a fall in trade and there doesn't seem to be much good news on the horizon. Is this situation the result of a fall in the number of marriages or are other factors at play?
The Cost of Housing
I keep reading reports in the press about the industry struggling and these mainly seem to focus on the fact that the number of marriages are falling. This trend is doubtless partly due to couples no longer seeing the need to be married and just settling for living together. The other factor is the cost of putting a roof over their heads. With property prices high, mortgages hard to get and large deposits required those who wish to buy their own home can ill afford a costly wedding and renting isn't exactly a cheap option either.
Going Abroad
So setting up home is undoubtedly an obstacle to financing a wedding but I think there are more issues affecting the industry judging by what I have personally experienced. There are certainly more couples opting to marry abroad these days which impacts the British venues. Overseas weddings also often mean fewer bridesmaids and so fewer bridesmaids' dresses and accessories are being sold. Destination weddings result in brides choosing less formal attire and simpler dresses which may not necessarily even be bridal gowns and the men may not wear formal suits. Other British suppliers like florists, cake makers and car hire companies are also losing out here.
Starting a family
Many couples have children before they are married and this fact can have a major impact on their choice of wedding. The expense of raising children can rule out an extravagant occasions and some couples feel that a traditional affair is inappropriate when you have already started a family.
Cutting Costs
People are now comfortable with shopping online and chasing down bargains and so many brides are bypassing traditional suppliers in favour of cheap imports for their wedding dresses, bridesmaids' dresses and accessories. The move away from church weddings has seen a reduction in the need for hire cars and many couples are dispensing with formalities and choosing to marry in ever more novel and eccentric ways. You can now marry under water, on a roller coaster and even during a parachute jump. Such ceremonies require considerably less frills than a traditional affair.
All suppliers in the industry are suffering in the wake of smaller budgets, even those selling wedding gifts or offering gift list services. A fair proportion of couples now forego traditional wedding gifts in favour of financial help with the honeymoon or contributions towards one larger gift as they already have all the small things they require for their home.
The Future
It would appear that in a world which serves up so many choices, couples who are struggling to set up home are foregoing an expensive wedding in favour of cheaper options like a wedding abroad or a less formal occasion. Naturally there are still many who have ample budgets and these couples appear to be spending more than ever but they are an increasingly rare breed. Most people need to make savings where they can or simply don't see the need to marry and it is a trend that may well continue.
Byline
Article by Sally Stacey