For most brides it is the weddings dress that is the most important and treasured element of their nuptials but the engagement ring and wedding band are up there too. After all what girl doesn't adore a great piece of jewellery? For most people an investment in gemstone jewellery is a significant one. so significant, indeed, that they can't afford the extravagance very often. For many brides those two special rings could be the most valuable pieces they ever own and so choosing the right ones is a big deal.
Diamonds are a girl's best friend but perhaps not that of her fiancés wallet!
Traditionally it is diamonds that feature in engagement rings. Diamonds are very costly and their value depends on the colour, clarity, cut and size of the stone. Even a small diamond with perfect colour and no inclusions is going to cost a fortune.  With limited budgets, most brides will have to decide if their priority is size or quality because getting your hands on both will cost the Earth!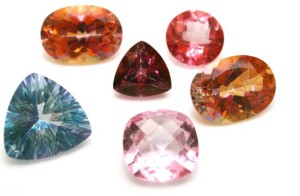 Cool Colours
Diamonds are not the only gemstones and you can make a striking statement by choosing to go for colour.  Sapphires are a great choice and although you may think that sapphires are blue, they actually form naturally in a variety of colours. Sapphire is a form of corundum and various minerals influence the colour of the stones.  Pink sapphires form when chromium is present. This variety of sapphire is highly prized and the stronger the colour, the more valuable the gem.  Green sapphires are the result of traces of iron. The rarest naturally occurring colour is the stunning padparadscha which is a gorgeous pinky orange.
Sometimes higher levels of chromium in corundum produce a red stone and this is a ruby. Rubies are also a great choice for your rings and the deep red hues have a timeless and luxurious quality to treasure.
Sapphires can also be yellow, black, colourless and purple. If you can't make up your mind which colour to choose, try a colour change sapphire which appears to change hues in different lights. Colour change sapphires can appear blue in natural light and then purple in artificial light or green outdoors and red indoors!
One gem which is certainly worthy of consideration is Tanzanite if only because supplies are limited and will soon run out. Tanzanite is a gorgeous blue/purple gem which is only found in one small region of Tanzania. It is estimated that the mines will be exhausted within the next ten years. If you like the idea of Tanzanite then now is clearly a good time to act!
Emeralds are a form of beryl with striking green hues. Much treasured since ancient times, emeralds are more prone to imperfections than diamonds and sapphires and these can affect the integrity of the stone.  Perfect examples are rare and thus extremely costly.
Gemstone Jewellery
As you can see you are spoilt for choice with gemstones. I have mentioned but a few of the available stones, there are many more. If you are looking for striking pieces featuring a glorious array of gems then do take a look at Amore Jewellery who fashion a fabulous range of timeless pieces in classic designs. The collection includes rings, earrings, bracelets and necklaces that are perfect for engagements, weddings and special gifts.
Byline
Article by Sally Stacey