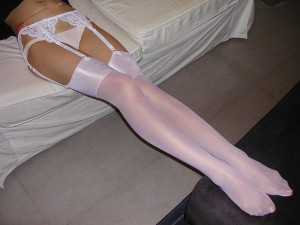 Every bride has a myriad of things to think about and plan in the build up to their wedding. Their outfit is usually their primary focus but dressing for the big day is not just about the gown. There are many other elements to consider including a jacket or wrap, bridal shoes and lingerie. Brides usually want special lingerie and something sexy for the wedding night but there are other considerations to think about before you spend your money.
Comfort
The stress of the wedding day can cause you to get hot and sweaty even on a chilly day and you should take this fact into account when choosing your lingerie. Sexy silky numbers may appeal aesthetically but might not be the best solution for all day comfort. Cotton is the best option for comfort and you can always change into something more visually pleasing later in the evening.
The Dress
One of the most crucial factors that will influence your choice of lingerie is the nature of your dress. Firstly you must choose a colour that will not show through the gown. This will not be an issue with heavy satin and taffeta gowns which have several layers in the skirt but lightweight chiffon dresses could be a different matter. The bust line of your gown will also affect your choice. If the dress has a plunging neckline or even a sweetheart could mean that you cannot wear a bra at all. If it looks like the bra won't be visible get your seamstress to sew anchors into the dress to hold the bra in place. The gown will relax and become looser during the day and so it could drop down a little.
The back of the dress is usually the main problem if you want to wear a bra. Most dresses are cut fairly low at the back making it impossible to conceal your bra. In this case you will have to go without which shouldn't be a problem as most dresses are constructed well enough to make a bra unnecessary.
If you are wearing a clingy dress ensure that your lingerie does not cause visible lines. You can only be sure by wearing your chosen lingerie to your fitting and you should really do this whatever type of gown and lingerie you have chosen. If you are wearing a bra or bustier it is particularly important to wear your lingerie to your fitting as it could affect the sizing of the dress.
Contouring
If you have concerns over your figure then I can be a good idea to go for a body shaping bustier or body but you must be sure that it will be comfortable to wear all day, will not make you sweat and does not show above the bust line and back of the gown. There are special bridal bustiers available which have low cut backs.
Hosiery
Some brides like the idea of wearing tights or stockings but this isn't always a great idea. Hosiery could cause sweating which can be very uncomfortable. If your feet get hot they can swell making your shoes uncomfortable which is a real nightmare.
Conclusions
Comfort should be king when choosing your lingerie for the wedding. If that means that your ensemble is not as beautiful as you had hoped then treat yourself to a second set which you can change into later in the evening. The wrong lingerie could leave you very uncomfortable and could spoil your big day.
Byline
Article by Sally Stacey