Flowers are a significant feature of many weddings. The bride and her attendants usually carry flowers and the table centre pieces are often floral arrangements but what if your budget is stretched or you are looking to do something different? Is it possible to organise your entire wedding without including any flowers at all? Actually it is! There should be no rules when it comes to your wedding. If you don't want flowers or you are struggling to afford them then do something different and make your wedding stand out from the crowd.
The Bride
Most brides carry floral bouquets but they can be costly and are not a great idea if you are allergic to certain blooms. They are not something which you can keep or use again either which is a shame. If allergies are the issue then have your bouquet made from silk flowers.  Crystal bouquets are a wonderful and striking alternative and be passed on to future brides, kept as a souvenir or broken down and fashioned into jewellery. It is also possible to have an arrangement created from sparkling brooches. A pretty handbag is also a great alternative to flowers and can be used again in the future.
Bridesmaids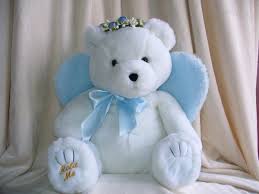 Whatever the bride decides to carry, more modest versions can be made for the attendants. Whatever is chosen can also act as the gift for the maids which could considerably help the wedding budget. If you have young children as part of the bridal party they will probably have little interest in decorative pieces but would love a cute teddies to carry. You can dress up the teddy bear with ribbons and embellishments that match the dresses and the youngsters will have a lovely souvenir of the day to take home with them. Not so much flower girls as teddy girls!
The Service
It is usual to decorate the church or the room where the ceremony is to take place but this does not have to be with flowers. Pretty bows and arrangements fashioned from lace, ribbons and beads can look spectacular and if you make them yourself you can save a fortune over using flowers.
The Reception
You can really use your imagination when it comes to creating the centrepieces for your table. The choice is easier if your wedding has a theme. At my own wedding the theme was magic as I love magicians so my centrepieces were cute white rabbits in top hats with sparkling magic wands! I have also seen arrangements in silk, lace and crystals, twigs with LED lights, pretty vases with tea lights, feathers and strings of pearls on painted branches. Simply choose elements which co-ordinate with your colours and theme and create your own masterpieces.
Flowers can be beautiful but many brides simply don't have the budget for extravagant floral arrangements. It is possible to make a big statement using other materials without breaking the bank and the results can be highly original. The most memorable weddings are the unique ones so get your creative hat on and make your event the one that everyone talks about.
Byline
Article by Sally Stacey