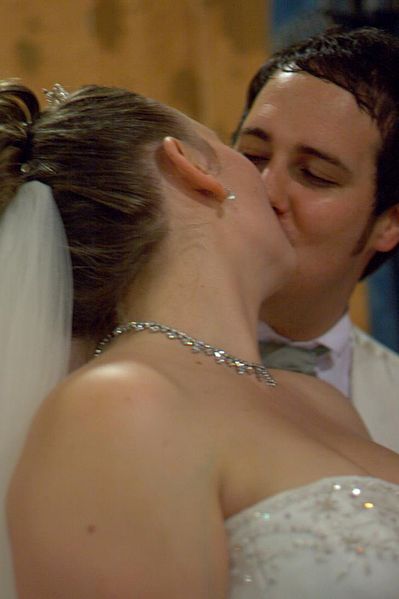 There is a growing obesity epidemic in the developed world and as the general population grows ever larger so do brides! I run a bridal shop and the issue of weight is becoming bigger by the day if you will pardon the pun. Whilst brides are clearly growing, few seem to realise how big they actually are and that is where my problems start.
Delusions
Don't get me wrong I have nothing against those with a fuller figure, indeed from a commercial point of view it doesn't matter to me what size my clients are but the situation does lead to misunderstandings and confusion. I guess nobody wants to admit to being obese and the notable expansion in high street sizes is clearly deluding many into thinking they are smaller than they actually are.
Underestimating Size
The problems start with the initial phone calls. Brides call up to make appointments and often enquire as to the sizes of dresses I have for them to try on. I can't see them during the call and so have to rely on their estimates of their size which often prove to be wholly inaccurate. If someone tells me they are a size 18 and I inform them that have plenty of gowns that will fit it is very awkward when they arrive for their appointment and turn out to be a size 26 and have only three dresses to choose from.
False Claims
In my experience few ladies will admit to being bigger than a size 16 and almost everyone who is, in fact, a size 16 or larger underestimates their proportions by at least two dress sizes. I now automatically presume that everyone is bigger than they claim to be and I am purchasing larger and larger dresses every year. I do not enjoy the experience of trying to squeeze larger ladies into dresses that are way too small and I don't think that they get much pleasure from proceedings either.
Embarrassment
It is also very embarrassing when brides try on a succession of dresses only to declare that they look fat in all of them. I have to stop short of telling them that this is because they are indeed fat! Wedding dresses do tend to be flattering as they are well structured. The right dress will make a bride look the best she can be but it can't make a size 24 girl look like a supermodel. Most brides spend a great deal of time looking at wedding magazines and pictures online and have a good idea of the styles they like before they come in. The trouble is that all they have seen is how the models look in the dresses, not what will suit them and so I have an uphill battle finding a dress to please.
I have even had cause to contemplate investing in a larger mirror for the shop as some customers are so wide that they cannot see the complete picture unless they stand at some distance from the wall. I know that some of my feelings, and often my sense of humour are exceedingly non PC but it really is a sad state of affairs when I have dresses in the shop that I and my two sales assistants can all fit in at the same time and yet the gowns are still too small for some of the brides who visit the shop. We really must stop making jokes about the local marquee hire company though!
Byline
Article by Sally Stacey