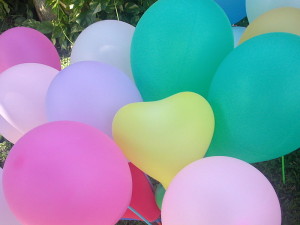 Balloons can add festive fun and a splash of colour to any occasion and they are the perfect addition to a wedding. Balloon displays will enhance the look of any venue and can turn even the drabbest hall into a riot of colour and add a party atmosphere to proceedings. Employ a professional to fashion a wonderful decorative scheme or if you are on a tight budget get creative yourself! You can use balloons in many different ways for your wedding and here are some ideas to consider.
The Church
Instead of using flowers you can always decorate the ends of your pews with pretty balloons and ribbons. Use the colours that you have chosen for the other aspects of your wedding to carry your theme through to the church. Make sure that the decorations you want to use do obstruct your progress down the aisle and you can always get one of the ushers to remove them after the service to hand to your guests as gifts.
The Venue
Most brides opt to include some form of centrepiece on their tables at the reception. Balloons are a fabulous option here and can be used instead or in addition to floral arrangements. Balloon experts will be able to create gorgeous displays using a few balloons in one colour or contrasting shades which compliment your theme and match any bows you are using on your chairs. Balloons are available in a vast array of colours and so there is sure to be an option to suit your event. Each display will be attached to a weight which will hold the centrepiece on the table with the balloons rising up above it.
If you love the idea of balloons and want to take things one step further then why not ask your supplier to make a balloon arch to adorn the entrance to the venue, the entrance to your function room or even the dance floor. Balloon arches make a big statement and can be placed anywhere in a room to highlight an area and to add a bit of drama.
Balloon Release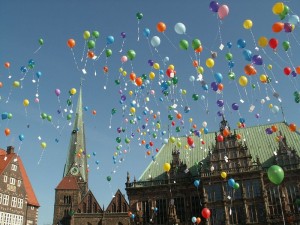 It is always a good idea to incorporate some features into your reception which keep the guests engaged and entertained throughout the day. One way you can do this is to have a balloon release. Most people really enjoy the sight of many balloons floating up and away and you could use this as an opportunity to raise money for charity by giving a prize away to the guest whose balloon travels the farthest. release kits are available from many suppliers containing everything you need including the helium, labels and a net to hold the balloons.
Gifts
Balloon specialists can fashion special gifts for you like large balloons containing teddy bears. These make great gifts for your attendants, especially the flower girls, and can be handed out after the meal. The contents of the balloons can be personalised and chosen to compliment the theme of your occasion.
Special Touch
To add that final finishing touch to your event you can use printed and personalised varieties for your wedding carrying a special message. You could have them printed with your names together with the date of the wedding or simply the word "enjoy" or even include a thank you message to your guests.
Imagination
There is no limit to what you can do with a few balloons and your imagination. Create a look unique to your event and brighten the day for everyone with some beautiful balloon displays!
Byline
Article by Sally Stacey a wedding planner and bridal shop owner