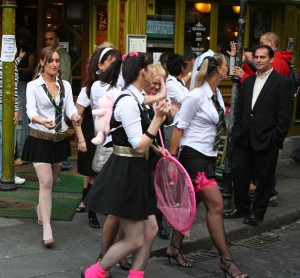 If one of your close friends is getting married soon, you're probably as excited about the hen night as you are about the wedding itself. In the last decade the hen night has changed from a few quiet drinks with friends to a full on party which often lasts a weekend, and can end up costing the participants hundreds of pounds. It doesn't have to be like that though, so here's how to have the best hen night while still watching the pennies.
Accommodation
If you are planning on going away for a hen weekend rather than just having a night out, the bulk of the cost will be for accommodation. If you are on a budget, steer clear of hotels and look for self-catering options which are specifically designed to cater for large groups. Bunk houses or youth hostels can be a great choice and if your group is large enough, you can get exclusive use which means you have the place to yourselves. Also look for large self-catering houses, cottages or even castles which work out far cheaper than hotels when you look at the per person, per night rate. Start your search early and don't be afraid to ask for a discount for early booking.
Food and Drink
If you are going self-catering, it's simply a matter of organising the shopping so that everyone brings something. Stick to simple, finger food such as sausage rolls and pizza as nobody wants to spend their hen weekend slaving over a hot stove. Arrange a menu which suits everyone's dietary preferences and then split the shopping so that everyone contributes roughly the same amount. This is far simpler than asking everyone to bring the food and drink which they want and then not having any tea bags or milk. It is also a good idea to do an online shop with one of the major supermarkets and then have it delivered to your accommodation on the evening when you arrive.
Entertainment
Decisions about entertainment will depend on personal preferences, so speak to the bride and other friends about what sort of activities everyone would prefer. specialist companies can help you out with the basics you will need to have a great party at home, such as confetti, banners and costumes. If you have decided on a theme for your weekend or hen night let everyone know early on so they can keep an eye out for bargains which would be appropriate for entertainment. One of the cheapest options is having the party at home, playing silly party games, drinking the wine you have brought with you and using the items from the hen night party supplies UK company you found online.
Transport
Party buses and limos are popular with hen parties but are also very expensive. Cut the cost by roping in friends and relatives as taxi drivers, and decorate the inside of their cars to get the party feel of a limo or bus. Pre-book large taxis if friends are not available to drive, as these will work out cheaper than hiring several different cabs to get you back home at the end of the night.
Byline
Article by Morag Peers