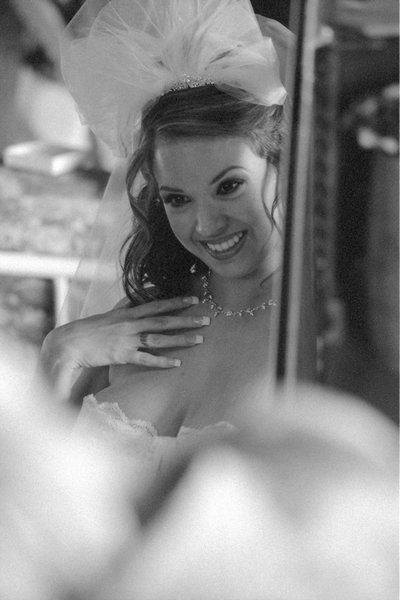 Some brides have the luxury of getting dressed on their big day in the comfort of a hotel room. If you are leaving from your own home you do have the advantage of being in a familiar place in the midst of the tension and excitement but it is all too easy to for things to progress slowly in the chaos. No bride wants to be late for her own wedding but that is exactly what can happen if you are not well- organised.
Planning
It can seem a bit overkill to have a plan of action just for getting ready but believe me you need one, especially if you will have the bridesmaids at your home. There will be several people trying to get themselves together in what is usually a fairly restricted space so it is best to evolve a plan before the big day so that you can relax and enjoy the morning when it finally arrives.
Outfit
Firstly make sure that you have your dress ready and all of your accessories to hand the night before. I once had a wedding car pull up outside my shop on the way to the church because neither the bride nor her attendants could find her veil and they needed to borrow one. Suddenly realising that you are missing something can be very stressful and you will waste valuable time looking for it so get everything together for you and your bridesmaids in advance of the day. It is also essential that everyone has tried on their dresses in advance to ensure that there are no issues. There will not be time on the morning of your wedding to take up a hem or replace missing buttons.
Rooms
Decide who is going to get ready in which room and make sure that you are not too ambitious regarding how many people can fit into a small space at any one time. Wedding dresses take up a lot of space and so, if possible, keep one room to yourself and put the bridesmaids in another. Ensure that any rooms you are using have good sized bedroom mirrors and if you don't have any borrow some for the weekend. Everyone will need to check out how they look before leaving the house.
Timings
Estimate how long you think you will need to get everyone ready and then add at least an hour as a contingency. Create a time chart illustrating what should be accomplished by what time so everyone will always know if they are on track and remember to allow time for the photographer to take some snaps during proceedings. Plan to be ready early for more photographs to be taken before you all leave. Consider what kind of dresses you are all wearing. If you have lace-up backs these take longer to deal with than zips. With these you should plan for one bridesmaid to get dressed ahead of the others so she can help the next girl and so on. Make sure that your plan leaves somebody free to dress you!
Refreshments
You will have a long day ahead of you and so it is helpful to have someone around to provide food and drink during the morning. Many brides don't feel like eating because of their nerves or excitement but it is important to give yourself some fuel. Hunger and dehydration will tire you out and spoil your enjoyment of the day.
A little forethought and a simple plan will allow you to relax and take in the joy of your big day and prevent any last minute disasters.  You can then arrive on time feeling serene as you glide down the aisle.
Byline
Article by bridal shop owner Sally Stacey