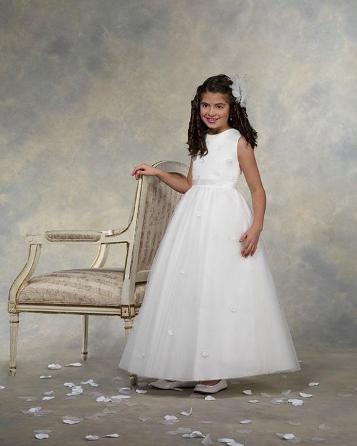 Many brides like to have at least one flower girl for their ceremony but with tight budgets and fussy little ones it can be difficult to choose the right dress for them. There are plenty of options but with so many things to think about it is all too easy to leave this decision until the last minute and cause yourself some problems. If you plan in advance and give yourself a little time you can find the perfect solution that will suit your wedding and not break the bank.
The Girls
Some thought should be given as to who your flower girls will be. Many youngsters find the whole process rather daunting and are likely to be problematic on the day. If the little ones you are considering are really shy think twice before going ahead as they may not be able to cope with the walk down the aisle. Some girls are also really fussy about what they wear and may make a scene if they don't get their own way. It is no good if your flower girls are going to scream blue murder if they can't have a pink dress when you want them to wear blue!
Budget
Don't bomb your budget for the flower girls as it is possible to buy inexpensive dresses on the high street that will do the job. They may not be ideal for your theme or be the ultimate princess dresses that the girls wanted but it really isn't worth stretching your budget when the kids are likely to rush around damaging their outfits and even get their food all over them! You may also find that your bridal shop will be able to offer you a good deal on flower girl dresses if you have also purchased adult styles.
Colour
The flower girl dresses you choose need to suit your overall colour scheme and there are several ways you can achieve this. You can opt for plain ivory or white dresses which will match anything, you can go for ivory dresses with coloured details and sashes or you can choose coloured dresses. For a perfect match to the adult bridesmaids dresses choose the flower girls' from the same range as colour matching between collections can be difficult. Alternatively buy plain ivory dresses and ask the supplier of your adult styles if they can provide you with matching fabric to make sashes for the kids' outfits.
Collections
You can choose your flower girl dresses from wedding collections or from fashion ranges which offer beautiful occasion wear. Take a look at brands who supply girls clothing like Monsoon or more boutique shops like Ceremony by Wojcik who have many pretty dresses in a variety of colours which would be perfect for a wedding. These dresses can be a little less formal than a conventional bridal range which may help the little ones to feel more comfortable and the dresses can be used again in the future for parties and special occasions.
Fit
Children's clothes should fit more loosely than adult dresses. If they are too tight the kids will be uncomfortable, start fidgeting and ultimately want to take the dresses off. The youngsters will also want to run around and so it helps if the dresses are a good couple of inches off the floor to prevent the girls tripping over the hems. If you are ordering the clothes a long time in advance get a size bigger than the girls are at the time to allow room for growth. The dresses can always be altered down if they are still too big as the wedding approaches.
Byline
Article by Sally Stacey