Choosing the perfect gown is one of the most important aspects of the wedding for any bride and with a vast and bewildering array of dresses on offer the choice can be a hard one. Whilst fashions do change across the years, bridal style tends to transform much more slowly than high street styles and retro looks are always available alongside the current trends. If you are looking for some inspiration then it is always interesting to take a look at what celebrities are wearing for their big days as they have access to some of the best designers and personal stylists.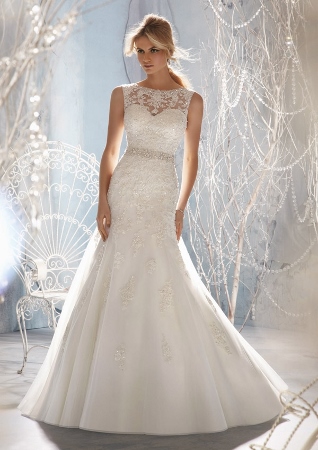 Lace
The last year or so has been all about lace in the bridal industry and the trend looks set to be with us for some time. Many of the new gowns from the popular ranges will be lace numbers in 2014 and celebrities are loving lace too. Victoria Pendleton recently married in an elegant lace gown by British designer Suzanne Neville and I am sure other stars will follow her over the coming months.
Pregnacy
It is not uncommon for the modern bride to walk down the aisle with a baby bulge and being pregnant will naturally affect the choice of gown. Empire lines are ideal for creating a beautiful silhouette whilst concealing a bump as recently illustrated by Halle Berry. She chose a gorgeous and romantic floaty gown by Jenny Packham for her wedding. There have been no official photographs released of the occasion but eagle eyed journalists have identified the dress form some blurry snaps as the Blaire Gown from the new Packham collection. This dress has a plunging neckline and exotic styling with an ethereal feel and limited ornamentation.
Something Different
Brides are getting braver and more advent-garde with some choosing to depart from tradition completely. You might think that it would be the younger brides who would be making a statement but it is actually often older ladies who feel more liberated! Tina Turner recently married in a striking green and black taffeta and tulle gown featuring a bodice encrusted in Swarovski crystal. At the age of 73 she cut a striking figure on her big day.
Colour
Recent research suggests that as many as one in four young women would opt for a coloured dress on their wedding day rather than the traditional ivory or white. Red and blue are popular choices and many brides are choosing to be pretty in pink. Celebrity brides Jessica Biel and Anne Hathaway both recently married in pink and I think this is a trend which will grow in coming years.
On Show
Whilst the celebrity styles of today give a fascinating insight into the options available it is always interesting to take a trip down memory lane. It has been announced that 20 wonderful celebrity gowns from the past will be on display at "Brides the Show" in Battersea, London this year. The gowns will include those worn by Joan Collins, Coco Rocha and Zara Phillips. Zara abandoned her riding gear in favour of a duchess satin and silk creation by Stuart Parvin for her big day and it will be fantastic to take another look at her beautiful gown.
2014
I think that next year will be dominated by lace but there will undoubtedly be a vast variety of gowns chosen by the brides of 2014. Some of them will have been inspired by celebrity style but I suspect few will be brave enough to follow in Tina Turner's footsteps with the choice of green and black!
Byline
Article by Sally Stacey