Most young girls jump at the chance to be a bridesmaid. The opportunity to wear a pretty dress and play an important role in the ceremony is an inviting one but in reality it can be a long day for youngsters and some find the whole experience rather stressful. Here are some tips for keeping the flower girls happy at your wedding.
The Right Choice
One of the most important factors for a successful outcome is to choose the right girls in the first place. Some young children do not enjoy the limelight or being away from their parents and will find the whole occasion a big ordeal. It is best to choose only girls who will not be intimidated and can throw themselves into the event. Shrinking violets may well refuse to walk down the aisle when it comes to it which will be a big disappointment on the day. It is going to cost a fair amount of money to dress your girls so make sure you pick the right ones! I have known small kids to get so stressed that they have thrown their dresses across the room and refused to put them on!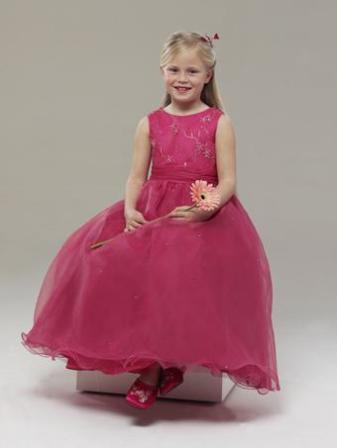 The Outfit
Whilst it is your wedding and you should have the final say in what your attendants wear it is always a good idea to include them in the process of choosing their dresses. You are much more likely to have happy and cooperative kids on the day if they can't wait to put on their dresses because they love them so much. Create little princesses not little prima donnas by letting them choose their outfits and try to avoid colours that they clearly do not like.
Preparation
The thought of walking down an aisle in a packed roomed can be very intimidating and so it will serve you well to include the flower girls in the rehearsals so they know a little of what to expect and what to do. If they have seen the room before and feel comfortable there is a much bigger chance that they will stride out with confidence and a big smile. Talk them through everything that is going to happen and then praise them for how well they are doing and how fabulous they look when the big day arrives.
Throughtout the Day
Even some of the stars of the event can become restless and bored at weddings. Much of what happens is not of interest to small children and so it is essential to provide distractions in the form of toys and games to give the kids something to do. Create a small area at the venue and designate it as a kids zone, fill it with toys and then your flower girls and younger guests can find refuge there when they become bored with proceedings.
Gifts
It is customary to reward your attendants with a gift of appreciation for their efforts. This can take the form of jewellery or something else pretty to wear on the day but for flower girls it is nice to give them a special present after the ceremony. You can choose different things for each girl according to their individual interests or buy the same thing for all. Cute toys like teddy bears and Maileg Mice are a good option or perhaps something personalised like a charm bracelet or initial jewellery for older girls.
Success
The key to success is to choose the right girls, prepare them well for the day, involve them in the decision making and encourage them along the way. If they are happy to be in the spotlight, love their dresses and have something to keep them interested they will be a wonderful feature of your wedding.
Byline
Article by Sally Stacey