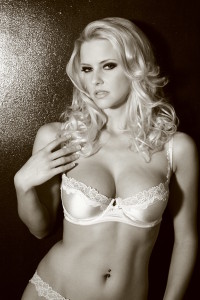 Most brides end up pondering over what lingerie to wear for their big day. It is all too easy to head straight for the beautiful sexy numbers available but wearing these can often be a mistake. Your wedding day is a long and tiring occasion and so comfort is of the utmost importance and it is vital that you choose pieces which complement your dress. If you want something sexy for your wedding night you are better off changing into this after taking off your dress but in any case you will find that after a long day and plenty of drink neither you nor your new husband will much care about your underwear!
Comfort
Look for under garments which are fashioned from natural fibres and so breath well and do not irritate your skin. Silky lingerie looks great but if it is man-made fibre it is not the best option for a long day. Make sure that the pieces fit properly and that there are no embellishments which will rub or scratch. Be absolutely sure that you can endure wearing your lingerie for several hours without wanting to run somewhere to take it off. Once you are in that dress you will have a major project on your hands if you want to change!
Budget
Before you rush out to buy expensive lingerie be sure to remember that nobody is going to see it except you and the groom and possibly the person who helps you into your dress so if you are looking to keep your budget under control your under garments are a good place to make savings.
The Dress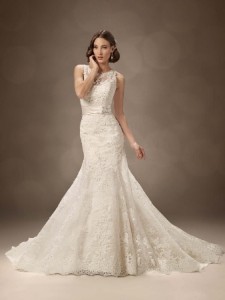 The dress is one of the most important aspects of any wedding and most brides take a great deal of time choosing the perfect gown for their big day. Don't ruin your look with a bad choice of underwear! Take your lingerie to your fitting to ensure that nothing shows through your dress. Brightly coloured undergarments and those with heavy seams and boning can show through lightweight dresses. If you wish to wear a bra make sure it does not show above the top of your dress even when you move about. If it is at risk of showing ask your seamstress to sew anchors into the dress to keep in in place. Most dresses are so well structured that a bra is unnecessary anyway. If you fancy wearing a body or a basque to define your shape check that this does not show, particularly at the back of the dress as many gowns are cut quite low here.
Choices
If you choose carefully you should not notice your underwear all day and nor should any of your guests! Make a mistake and it will be one that you will come to regret. You have to live with the photographs of your day for the rest of your life and so you need to look relaxed, comfortable, happy and have no lingerie on show! If you really feel the need for luxury then buy something lovely like classy underwear for your honeymoon instead, there shouldn't be any pictures of that!
Byline
Article by Sally Stacey