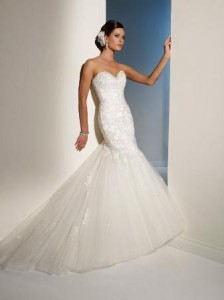 The dress is one of the most important aspects of the wedding for most brides and they will spend a great deal of effort searching for the perfect gown. There are so many different styles available that the choice can be a difficult one and the issue is complicated by the vast range of prices. The question is, do you need to spend a fortune to get a great dress and how much of your budget should you set aside for the gown?
Budget
Decide what your budget for the whole wedding is and try to stick to it. Everyone wants a fantastic wedding but there is no point laying on an occasion that you will still be paying for years later. Don't create a millstone around your neck and remember that after you are married there will be many important things you will need to finance like home improvements and children. Spend only what you have and set aside no more than 10% of this for your gown.
Complete Outfit
Remember that your look on the big day will not only be about your wedding dress. You will have to purchase your accessories like shoes, a veil and a tiara too and you will probably want some new jewellery to complete the outfit. Your budget should be for everything you need so bare this in mind when looking at dresses. You could pay hundreds of pounds for a veil alone and so it is a good idea to establish in advance how much to spend on the dress and how much on everything else. If you fancy a diamond necklace for the big day this could impact on how much you have left for the dress. On the other hand if you only want costume jewellery like a high quality Martine Wester Necklace or an Estella Bartlett bracelet then your dress budget will be larger. You can shop for items like these online for little relative cost at places like The Alphabet Gift Shop.
Quality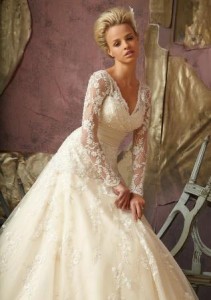 You will find that very cheap wedding dresses are generally of inferior quality to more expensive garments and that lace gowns and heavily beaded styles are the most expensive choices. Having said that there is a limit to how well something can be made and how much fabric and beads can cost and if you spend more than £1500 you are paying for the name and perhaps some exclusivity and not the quality of the garment. A good quality gown with a great fit and some embellishment will cost between £800 and £1500.
Making Savings
Don't be tempted to buy something on the internet that you have not seen. Many of the cheap dresses advertised are poorly made fakes and some of the companies are not reliable on sizing and delivery. If you want to save money find a second hand dress and check it out before you buy. Many bridal shops sell off their shop samples at discounted prices when the styles have been discontinued and these are well worth looking at too. It is also a good idea to purchase your gown, accessories and bridesmaids dresses from the same shop as you will probably be able to negotiate a package deal.
Making the Choice
Try on several dresses in different shapes to establish the style that flatters you the most. Ask the shop only to show you gowns that they can supply within your budget and try accessories with the dress to get an idea of your overall cost. Don't buy anything until you find something which you both love and can afford!
Byline
Article by Sally Stacey