The modern bride has plenty of options when it comes to choosing her gown. There are thousands of choices displayed online and what appear to be incredible bargains to be had. When you can shop so easily from home why is it still worth considering your local bridal shop and will it cost you more?
Trying On
If you shop online you will not have the privilege of trying on the dresses. In addition to being a fun and exciting thing to do, trying dresses is essential if you are going to find the styles that suit you best. None of us routinely wear wedding dresses and so most brides will have no idea what will best flatters her figure and it would be true to say that a trying on session usually yields plenty of surprises. It is often the styles that you though you wouldn't like that prove to be the right ones! Brides should also bear in mind that the fit of dresses can vary dramatically even when they are similar styles. The cut, length of the bodice and neckline can make two dresses which seem almost identical look very different when they are on. If you buy a dress without trying it first you could run into trouble.
Brides should also be aware that sizing can be an issue. High street clothes have been getting progressively bigger over the years but wedding dresses have not. You will usually need a larger size for your bridal gown than your high street clothes whatever the style but particularly if it is close fitting. You may be able to wear a size 12 T shirt or nightdress which is baggy but it is a different story with a wedding dress. Ordering online can make getting the right size almost impossible.
Advice and hard work
A good bridal shop will be able to advise you regarding the right styles to suit your figure, the ways in which gowns can be adapted to suit your needs and the delivery schedules for the dresses. Whatever gown you choose you need it to arrive in time for the wedding and bridal shops will work hard in the background to monitor progress and ensure that the goods are delivered in timely fashion. On the rare occasions when there is a problem the shops are in a position to deal with issues and source an alternative if necessary.
Quality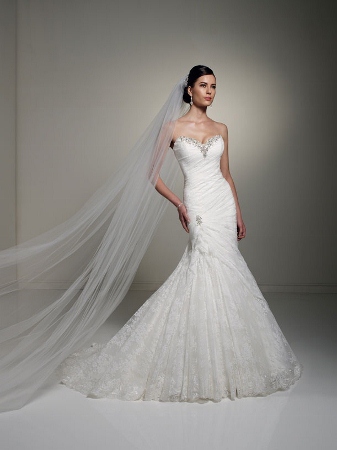 If you purchase from a shop you will have had the opportunity to see the gowns close-up and to feel the quality. You can't usually tell how well a dress is made and the quality of the fabric and finish from a picture and the images displayed online are often just representative. Your actual dress could turn out to be very different indeed.
Alterations
If you buy your dress online it is still highly likely that it will need some degree of alteration to achieve the perfect fit. In this case you should use a seamstress with expertise in bridal attire and they can be hard to come by. Most bridal stores have an expert seamstress but many will not offer their services to those who have bought their dress elsewhere.
Accessories
You will need accessories to complete your wedding day look. It is much easier to choose these when you are wearing your chosen gown and you can do this in store. You should only choose your shoes, veil and jewellery when wearing your dress to ensure that everything is complimentary. You must also test out your lingerie ahead of the big day. The wrong undergarments can be uncomfortable, alter the shape of the gown or even be visible which would be a disaster. Your bridal shop will help you get everything right for the big day.
A Small Price to Pay
There is no doubt that you will pay a premium for using a bridal shop but it is a price worth paying for the assistance and peace of mind. You can let the shop take the strain whilst you concentrate on the other aspects of your wedding.
Byline
Article by Sally Stacey