High street retailers have been struggling over recent years with many shutting their doors for good. The reasons are simple. People are buying more and more online, shops are selling cheaper and cheaper and the recession has reduced the amount of disposable income people have to spend. With even some of the biggest names running into trouble it is little wonder that independent bridal shops are struggling and they also have some unique issues to contend with.
Cost Base
Bridal shops do not have the buying power of a huge chain and so cannot negotiate lower cost prices. The prices at which they buy the wedding dresses are fixed by the suppliers and so there is no way to make savings. With dresses online being sold so cheaply there the high street shops simply cannot compete.
Time is Money
In addition to the obvious overheads like rent, rates heat and light bridal shops also have to cover the costs of staffing adequately to provide lengthy appointments. Unlike in a fashion store, brides do not walk in, pick up a dress, put it on themselves and then decide whether to buy it or not. They want to try many dresses and require someone to help them dress. If a bride does purchase a dress the shop also has to dedicate time to the fittings and many brides like to come in to show their dress to friends and family causing the shops even more expense. Bridal shops dedicate a great deal of time to each potential customer and that costs money. There is no way that they could offer internet prices on the gowns and maintain an acceptable service level too. The trouble is, after brides have tried the gowns they often run off to try to get a better price elsewhere. Shops invest a lot of time and money into showing the dresses only to see no return.
Samples
If brides are going to try dresses on then the shops have to provide those gowns and they don't come free. Every dress in the shops has to be paid for and as they get tried on they can become damaged. The shop samples are inevitably sold off at greatly reduced prices and often at a loss. The prices the stores charge for wedding dresses have to reflect the provision of the dresses to try on in the first place.
Trying On
At the end of the day most brides want to try on gowns before they make their choice and they can't do that with the garments online. They are often using bridal shops as a trying on service only to make their final purchase elsewhere. They make think they are getting a bargain but often the dresses online are inferior in quality and there is no back-up service for alterations. The bigger potential issue is that if things carry on like this the bridal shops will not be able to survive and there will be nowhere to try the dresses.
Wedding Dresses are Special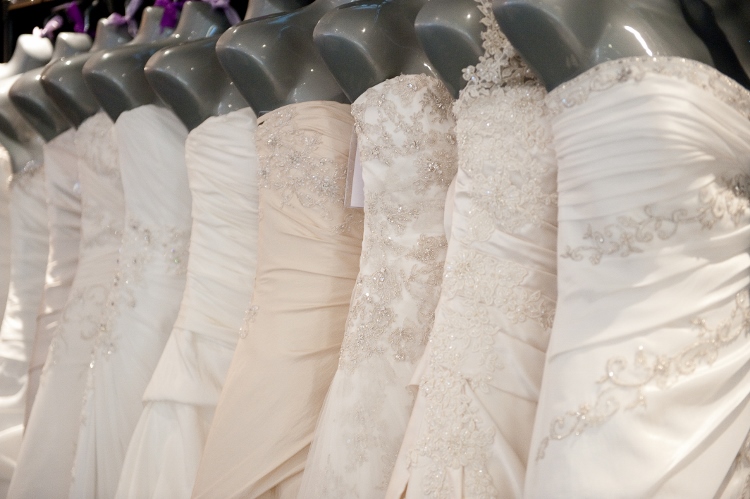 Choosing a wedding dress is not like buying a DVD or some art. Books and DVDs don't need to be tried on to establish if they are what you want and if you need a picture for your home the online image is sufficient to tell you all you need to know. Buying your wedding dress is a different thing entirely to picking up a bargain on a Jack Vettriano print but soon brides may have no option but to buy their dress online. As many wedding gowns are made to order this will mean that they cannot be returned if you don't like them or they don't fit. A dress doesn't seem such a bargain if it turns out to be the wrong one! If brides don't support their local shops and accept that the service comes at a cost then the shops will soon cease to exist.
Byline
Article by Sally Stacey