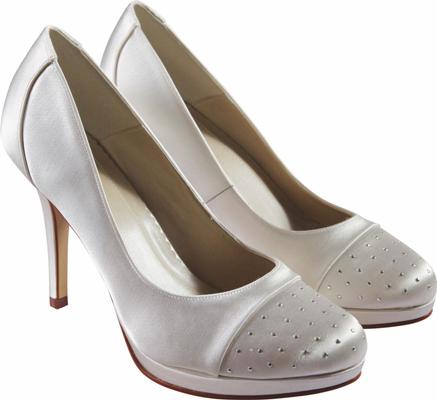 After the excitement of choosing your wedding dress there is generally a period of calm before you start to realise there are several accessories you need too. Choosing the right jewellery and tiara to complete your look is great fun but you are going to need shoes too and they are sometimes a bit of an after-thought. For those who are not shoe crazy, bridal footwear can be a low priority but it shouldn't be. Your shoes are one of the most important aspects of your day and careful consideration should be given in finding the right pair for the occasion.
Comfort
Many brides think that because their shoes will be largely covered by their dress they are not important. The trouble is you will be standing in them for a very long time and you really don't want painful feet on your wedding day. Hobbling brides do not look elegant and so it is vital to find shoes which will be comfortable for the whole day. If you have troublesome feet and a nice pair of shoes are going to be problematic then make sure you have a spare pair for the evening to give your feet a rest.
Heels
Although comfort is crucial shoes which are completely flat are often a mistake. To keep comfy or to avoid being taller than their partner many brides choose flat shoes but almost everyone walks with better posture and more elegance if they have a heel. The heel does not have to high as any heel will make a difference to the way you walk. It is also pays to be careful about going too high. Even if you are comfortable all day in very high heels it is essential that you are stable and can walk naturally. Give high heels a test run before making your final choice.
Budget
Don't get carried away when choosing your shoes. They are going to get trashed in all probability so keep your spend proportionate to the rest of your budget. There are plenty of good bridal shoes out there which look stylish but are reasonably priced. Jimmy Choos might seem like a great addition to your outfit but if they cost more than your dress they are probably a mistake!
Statement Pieces
Many brides like to take the opportunity to do something different and funky with their footwear. For many it is a way of breaking from tradition and introducing a surprise element to the occasion. I have seen brides wearing everything from diamante encrusted trainers to heavy duty boots under their dresses! Brightly coloured shoes are also a popular choice. They are a like a little secret hiding under the dress! This is all great fun but you must be careful not to ruin your overall look with your choice of shoes. If you want to wear something really different it is often best to save this for after the ceremony. Wear something conventional during the service and then make the switch when you get to the reception.
Wearing In
Whatever shoes you go for don't make your wedding day the first time that you wear them. It is important to wear the shoes in before the big day. Do this by wearing them around the house and protect them by putting socks over them. The shoes will give a bit and shape to your feet making them much more comfortable when it really matters.
Byline
Article by Sally Stacey