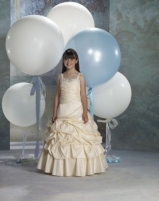 You might think that every little girl would relish the prospect of being a little princess for the day but some youngsters certainly do not. I have been running a bridal shop for more than 8 years and I have seen numerous young girls who are terrified at the prospect of being a bridesmaid or who simply want nothing to do the occasion!
Shrinking Violets
The problem is often one of personality more than age. Whilst some kids have no problem with being the centre of attention, others are really shy and find the idea of walking down the aisle in front of all those people truly intimidating. It would be true to say that the younger the kids are the more likely they are to be scared of the proceedings. If you are considering asking any kids under the age of 6 to be bridesmaids then only go ahead if they are extrovert and generally enjoy social events.
The Longest Day
A wedding is a tiring occasion for the best of us and for small children it can all get a bit too much. Flower girls face being separated from their parents for a long period of time and may have to spend much of the day in the company of people they hardly know. This can be an uncomfortable experience for some little ones, whilst others seem to take it in their stride. After all the hustle and bustle of getting ready, there is the drive to the venue, the ceremony, the photographs and then the reception to deal with and many toddlers will get tired and irritable. You may have to accept that they are not going to cooperate with your wishes.
Differing Tastes
Some kids can get very cantankerous when they don't get their own way and what they want may not fit it with your plans! If your young flower girls want to wear a princessy pink number and you had a more simple blue dress in mind then you could meet with some resistance and a few tears. The beautiful boutique clothing you have purchased may not meet with universal approval and I have known many kids to refuse outright to wear the garments chosen. I even had one little girl snatch the dress she didn't want to wear and throw it across the room!
Ask the Right Questions
The best course of action is to talk to the parents of the children you would like to include and to ask some searching questions. It is your big day and so the choice of bridesmaids is an important one. This is not a time for too much diplomacy. You need to know if the girls are able to cope with being the centre of attention, how they deal with being separated from their parents, whether they are well behaved and how they will take being told what to wear. If you are not completely convinced by the answers you receive then look elsewhere or stick to older bridesmaids. Not that they are always a breeze either!
Most girls aged 6 and older tend to cope well with weddings but younger kids should be chosen carefully. Those aged as young as two can struggle to keep up with the party on the walk down the aisle and will often want to run to their parents. During the build-up to the wedding you should be able to judge how they are coping and don't feel shy about limiting their role if they are proving problematic.
Byline
Article by Sally Stacey