As wedding venues go it doesn't get more unusual than the Wieliczka Salt Mines in Poland. It doesn't get much more atmospheric either and there can't be many places of such historic significance where you can hold both your ceremony and your reception. If the thought of marrying underground does not appeal then read on because you might change your mind.
History and Location
The mines are located in southern Poland within the metropolitan area of Krakow making the site easy to reach if you are travelling from overseas. Salt was mined on the site from the 13th century until 1996 leaving a complex system of passages and chambers deep underground. If you want to get a good look at the place as a prospective venue it is worth booking one of the tours on offer which will take you on a fascinating journey around the site past underground lakes and into the magnificent chambers and chapels which have been carved into the rock.
The Tours
The Classic Tourist Route is a good introduction to the mines but if you are feeling adventurous you can opt for the Miners Route where you play the part of a historic miner and discover what it was like to work underground. For the even more adventurous the Mysteries of the Wieliczka Mine Route ventures into the more remote areas of the complex with some difficult terrain to negotiate. If you marry here your guests can also enjoy one of the tours of the mine.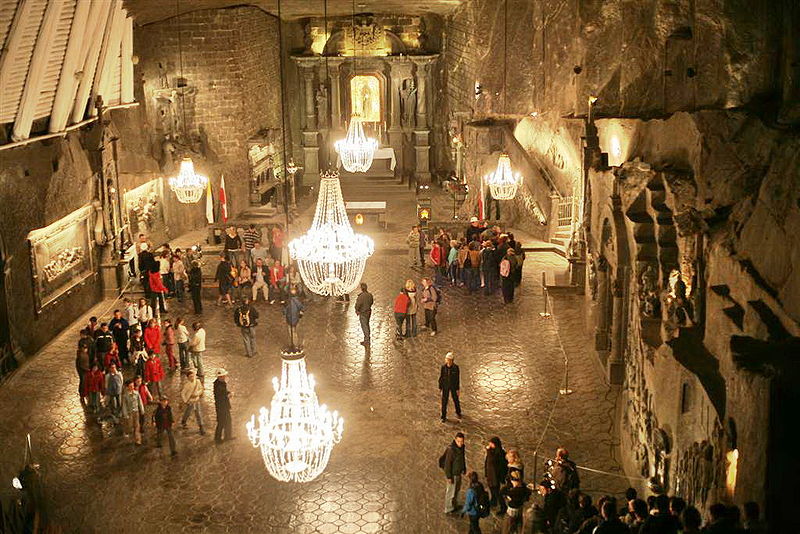 Spectacular
The highlight for me is the Chapel of Kinga, a huge underground cathedral over 100 metres beneath the ground in which the statues and even the chandeliers are fashioned from rock salt. The scale of the work here is breath-taking and there is a truly unique and mystical atmosphere. You can marry in this chapel or the smaller Chapel of St John and there are several chambers in which to host your reception which will accommodate up to 350 guests.
Fantasy World
I visited the mines myself a few years ago and I was totally stunned by what I saw. I took the trip to fill some spare time after visiting Auschwitz. It had been a bit of an afterthought but I later realised that it should have been a priority to visit the site. As soon as you begin to descend below ground it is like entering a magical and mysterious wonderland with amazing features around every corner. I knew straight away that I would want to return and when I realised that you could get married down there I wanted to tell everyone what I had seen. It could not get more romantic than saying your vows in a wonderland below ground with flickering flames and the salt glistening all around. The prices are reasonable and you and your guests will have the beautiful city of Krakow to enjoy after the big event.
Byline
Sally Stacey is a frequent traveller and bridal shop owner