Your wedding should be the biggest day of your life with the focal point being the ceremony itself. Many couples spend a great deal of time planning the details of their reception but do little to make their actual marriage an event to remember. The addition of live music can really add drama and atmosphere to the proceedings and most venues, even some churches, will be happy for you to have musicians playing rather than a CD or just the church organ. You may be restricted as to what pieces the church will find acceptable but at other venues you could pick any music you fancy remembering that you are not allowed religious content at civil ceremonies. Here are a few ideas for your special day.
Here's a video to get you in the mood from Love Actually which combines a number of musical elements that we will be covering.
Trumpeter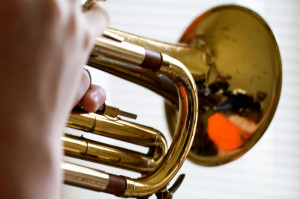 If you want to make a grand entrance and exit you cannot do better than a trumpeter. This is a spectacular sound that will fill the room and if your church is happy you can have the organ playing as well for a greater depth of sound. Some of the most popular wedding music was originally written for the trumpet and so is best played that way. Consider Clarke's Trumpet Voluntary or Purcell's Trumpet Tune and Air for your entrance and Prelude from Te Deum by Charpentier for your exit.
String Quartet
A string quartet provides such a glorious and joyous sound for your occasion. They will sound good playing pretty much anything and so you can choose classical pieces or more contemporary favourites. Spring from Vivaldi's Four Seasons and Handel's Air from the Water Music are uplifting pieces to consider for your entrance Handel's Arrival of the Queen of Sheba for your exit. You can also book the quartet to play at the reception too.
Harp
For a more relaxing and ethereal feel to your ceremony engage a harpist. There is a unique beauty to the harp and like a string quartet most pieces can be played on the instrument. Pachelbel's Canon in D and Bach's Sheep May Safely Graze are good classical choices or you could opt for a favourite movie theme. The Harp works particularly well for music in the church when you are signing the register.
Classical Guitar
For smaller more intimate ceremonies and informal occasions you might consider engaging a guitarist. There is something very personal about being serenaded by a guitar and if you are looking for a simple and romantic occasion the classical guitar will definitely do the trick. Good choices of music here would be Bach's Jesu Joy of Man's Desiring for your entrance and Mendelssohn's Wedding March to exit.  It first occurred to me that this would be a lovely choice for a wedding day when I visited a live classical guitar event at a local guitar shop / venue.
Voices
Joyous singing adds something really special to a wedding and there are a variety of ways to include the human voice. In a church you can ask for the choir to attend or engage one yourself and in a civil ceremony a choral group or opera singers are ideal. The Hallelujah Chorus from Handel's Messiah is superb for a grand entrance or exit if you have a choir and if you can engage female opera singers try the Flower Duet from
Lakme by Delibes.
Your Wedding
Enchant your guests with live music at your wedding and it will be a ceremony to savour. The musicians you need can be found by a simple online search or by contacting musical agencies. Whoever you engage try to meet them before the big day to hear what they can do and to discuss exactly what you want and if possible have the artists present at your rehearsal. What music will you pick?
Byline
Article By Sally Stacey