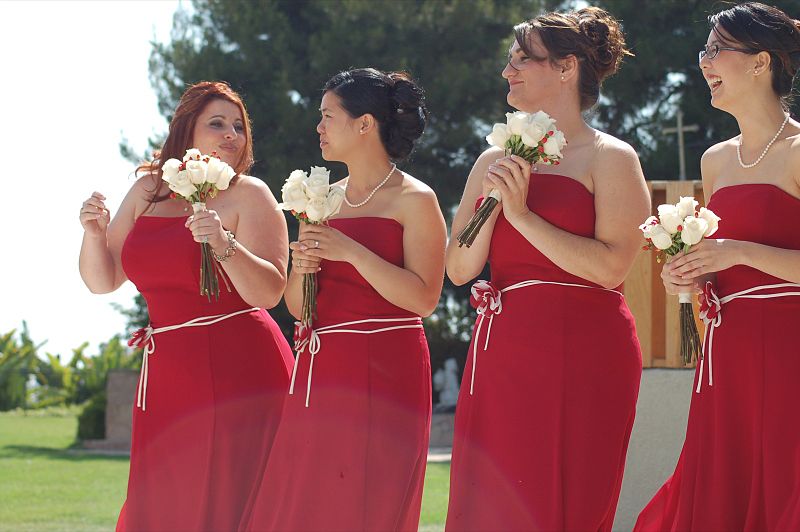 Most prospective brides have plans to feature bridesmaids at their weddings but things don't always go according to plan. I run a bridal shop and I have lost count of the amount of times that the bridesmaids have caused major issues of one kind or another in the shop and so I can only wonder how many other problems are arising generally. If you want the build-up to your wedding to be harmonious it is best to choose your bridesmaids carefully!
Budget
The vast majority of brides have some sort of budget for their wedding and buying the bridesmaids dresses can eat up a big chunk of this. If your budget is relatively tight keep bridesmaids to a minimum otherwise you may struggle to afford all of the dresses and you will be limited as to what you can dress them in. You can ask your attendants to pay for their own dresses but if you do this you will have to choose bridesmaids who are happy to do this and they will be entitled to have a say in what the dresses are like.
Personality
It is a fact of life that some people can be very fussy or argumentative and this can be a big problem when you are trying to organise a wedding. If any of the girls you are considering might be likely to cause conflict or have a tendency to want to inflict their will onto you and the other girls then don't choose them! I have seen girls argue over colours, the length of the dresses, the style of the dresses, the shoes and even whether or not the bridesmaids should wear jackets. Bridesmaids can and will try to interfere with everything and not always for the best. If you want a harpist playing at your reception it can be very annoying when someone tries to persuade you to have an guitarist instead. Stick to bridesmaids who will offer opinions and try to help but not those who will argue and get moody if they don't get their own way.
Politics
The choice of bridesmaids can cause upset between family and friends as some people will inevitably be left out. In reality it can be difficult to avoid leaving someone's nose out of joint but don't be tempted to pick someone because of the politics of the situation. Choose the people you want and speak to everyone else to explain your decision. You can placate anyone who is left out by giving them another special role or responsibility at the wedding. It is your wedding and you should have what you want or need so don't let people push you into decisions that you are not happy with.
Conclusions
It may be impossible to choose the people you want and the outfits they will wear without upsetting someone but those who really care about you should be prepared to be flexible. You will need help and support on the big day and confidence in the way everything is going to look and so your bridesmaids should be there to help you. If they are not that kind of person they are a bad choice!
Byline
Article by Sally Stacey