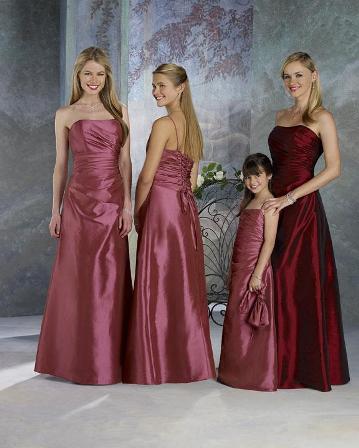 Every bride looks forward to the magic moment when she walks down the aisle and is eager to wow her family and friends. To make the best possible impression at your ceremony it is crucial that your bridesmaids look great too. There are several things to consider if you are going to find the perfect dresses for the occasion and some advance planning is required.
The Wedding Dress
For the best overall look on your big day, choose dresses which complement your gown. Many brides fear diverting attention from their own dress or having the bridesmaids outshine the bride but in practice this doesn't happen and you are more likely to under do it with your attendants. If your dress is quite extravagant don't choose underwhelming bridesmaids dresses as they will look out of place.
Budget
Paying for a wedding is quite a task so don't make your life harder by choosing things you will struggle to afford. If you can't cover the cost of dresses from a wedding collection then look to the high street for inspiration. You don't have to follow convention with your bridesmaids and something a bit different will add interest to your occasion. You can dress your maids in anything you fancy but it is probably best to avoid extremes like denim or very revealing outfits! You may find that if you approach the bridal shop where you purchased your gown they may be willing to offer you a good deal on bridesmaids dresses as a loyal customer.
Avoid cheap dresses online as it is essential that you try them before parting with your money. Cheap dresses on the internet often prove to be of poor quality and will let down your wedding day look. If you are still struggling with your budget ask the girls to contribute to the cost of their dresses. If you do this, choose styles which they can use again in the future. Short dresses are a great pick here as they could make good party or cocktail dresses for the girls.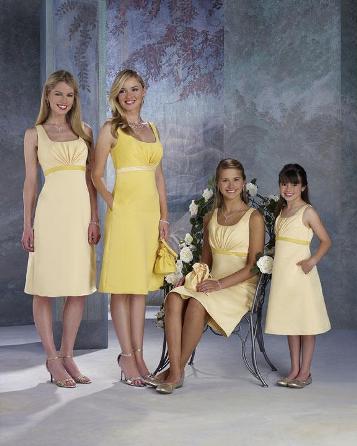 Colour
Most brides have a colour theme for their wedding but you need to be sure that your chosen colour suits the bridesmaids. There is no point going for shocking pink if one of your girls is a redhead! If you are fixed on a colour but have issues with one or more of the attendants you can get round the problem by choosing ivory or cream dresses and bringing in the colour with sashes or accessories. You may also find that there is no one colour which suits all of the girls. In this case it is fine to choose dresses in different colours. A mix of shades or colours can be a really funky look and will ensure that all of the girls are at their best on the day.
Style
Get as many of the attendants as you can to try your preferred style before you buy. If your girls are different shapes and sizes, it can be tough to find a style which suits them all well. If you can't source a good option consider dressing the girls in the same colour but different dresses. It is important that they all feel at their best on the day so don't force them into gowns which suit you but not them!
Photographs
Your photographs will provide a wonderful record of your special day and you should bare this in mind when choosing your bridesmaids dresses. Strong colours will stand out much better than pastels and muted shades especially if you are not blessed with good weather.
There are so many things to consider when choosing your bridesmaids' dresses that it is best to start looking as soon as you have found your gown. It may take some time to source the right styles and they may need to be ordered well in advance of the wedding. Get looking as soon as possible to save yourself a lot of stress!
Byline
Article By Sally Stacey