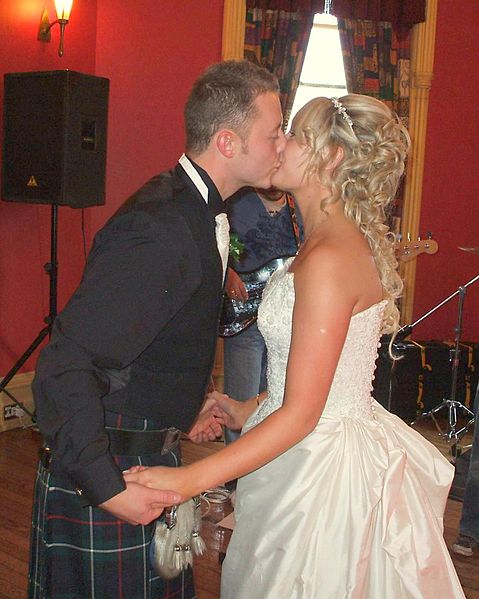 Most weddings include certain traditional elements and one of these is the first dance. Before the guests hit the dance floor in earnest for the usual embarrassing displays of enthusiasm, the bride and groom must start proceedings whilst everyone else looks on. Before the big day the happy couple must decide what form their first dance will take and which music they will perform to.
The Song
For many couples the choice of music is an obvious one. They have a track which is "their song" and is of particular significance in their relationship and so this must be included. For others the selection is harder as tastes may differ and so compromises might have to be made. The right song will depend on how they intend to dance and here things can get interesting! If you are planning your reception then the first dance should be the matter of careful consideration.
The Traditional Dance
There was a time when the first dance would simply involve the couple taking to the floor and performing a slow dance to an appropriately romantic piece with no formal steps or routine. If that is all you want to do then it is only necessary to find a slushy song that you both like and tell the DJ what track you want played and you are away. These days, however, it is common for couples to turn the first dance into a full blown performance with a well-practised routine and it doesn't have to be a romantic affair!
The Routine
Naturally those who lack self-confidence on the floor will want to confine themselves to a low key performance but if you have it then flaunt it with a great routine! A pre-planned piece will provide wonderful entertainment for the guests not to mention a big surprise and any form of dance can be used. Strictly fans could do ballroom or Latin, clubbers can dazzle with street dance and you can even go Flamenco for a dash of passion and drama. Retro disco routines are great fun as are re-workings of famous productions like Michael Jackson's Thriller. Imagine the reactions of the guests when the happy couple take to the floor for a romantic smooch only to perform Sooth Criminal!
Added Extras
For additional impact you can recruit extra dancers from amongst your guests who can cause a stir by joining the action. You will have to rely on them to keep the dance a secret and it will be essential that they can devote the required time to the rehearsals. If your budget allows, a flash mob would be a fabulous inclusion. Have dancers dressed as waiters or hotel staff who suddenly burst into action when you hit the floor! The element of surprise will add impact to your evening and provide some wonderful memories.
Whatever form your first dance takes it is an important feature of the big day and should be recorded for the future. Make sure your photographer or videographer is ready to capture the moment and ask your guests to take pictures too!
Byline
Article by Sally Stacey