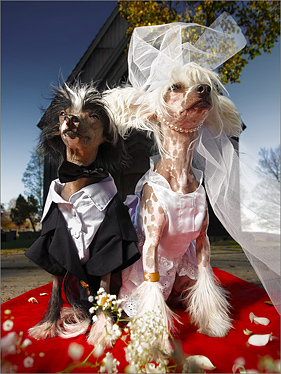 These days it isn't just people that get married it is dogs too and not always to other canines! I know we all have a habit of personifying our pets but chatting away to them is one thing, arranging a full scale wedding is quite another. However, mutts' nuptials are becoming big business as more and more people arrange for their pets to tie the knot.
Trend Setter
The trend appears to have started with Baywatch star Pamela Anderson who hit the headlines in 2005 when she arranged an elaborate ceremony for her pampered pooches, Star the golden retriever and Luca the Chihuahua. The wedding took place on Malibu beach but was unceremoniously crashed by Borat the unpleasant alter ego of British film star Sasha Baron Cohen. Borat was swiftly despatched by Anderson's security detail and the dogs were successfully married on the beach.
Saying It with Dog Food
One wonders what you would include in doggie wedding vows and who writes the things. Perhaps the pooches could promise not to steal each other's favourite dog food and not to eat a favourite toy. What am I talking about! Dogs can't promise anything because they can't talk and they wouldn't have the faintest idea what is happening apart from the fact that they are wearing a silly costume that they would rather be without.
Lunacy
Oh yes you can indeed buy doggie wedding dresses and tuxedos from pet boutiques.  There are even canine wedding planners in America and apparently the latest in thing for dogs is the destination wedding. I can think of a few appropriate destinations. Try the local lunatic asylum for a start! The dogs can leave their owners there whilst they go off in search of more suitable minders. People are spending five figure sums on canine weddings, utter madness.
Different Species
As if mutts marrying each other isn't quite enough madness one women has actually married her own dog in a ceremony in Croatia. Amanda Rodgers married Sheba in Split with 200 people watching on. Amanda reports that her marriage to her human husband broke down within a few months. I can't imagine why!
Canine Presence
Ok so doggie weddings are a bit bizarre and I really cannot believe that anyone with an ounce of sanity wants to marry their own dog but I can understand wanting to include your pets at your own wedding. Dogs make for the cutest photographs and can be a useful diversion and calming influence for young attendants who are finding the day a bit stressful. Dogs are an important part of many people's lives and so why not include them in the wedding?
Sorry about the Shih Tzu
If you like the sound of your dogs making an appearance on the big day do remember that they might find the process stressful and perhaps should be involved for a short time only. Make sure you check with your venues because some may not allow animals inside and get someone to take the dogs for a bathroom break before the ceremony to avoid any embarrassing incidents. A dog at a wedding may seem like a cute idea but not if they drop a big one in the aisle on the way through!
Byline
Article by Sally Stacey